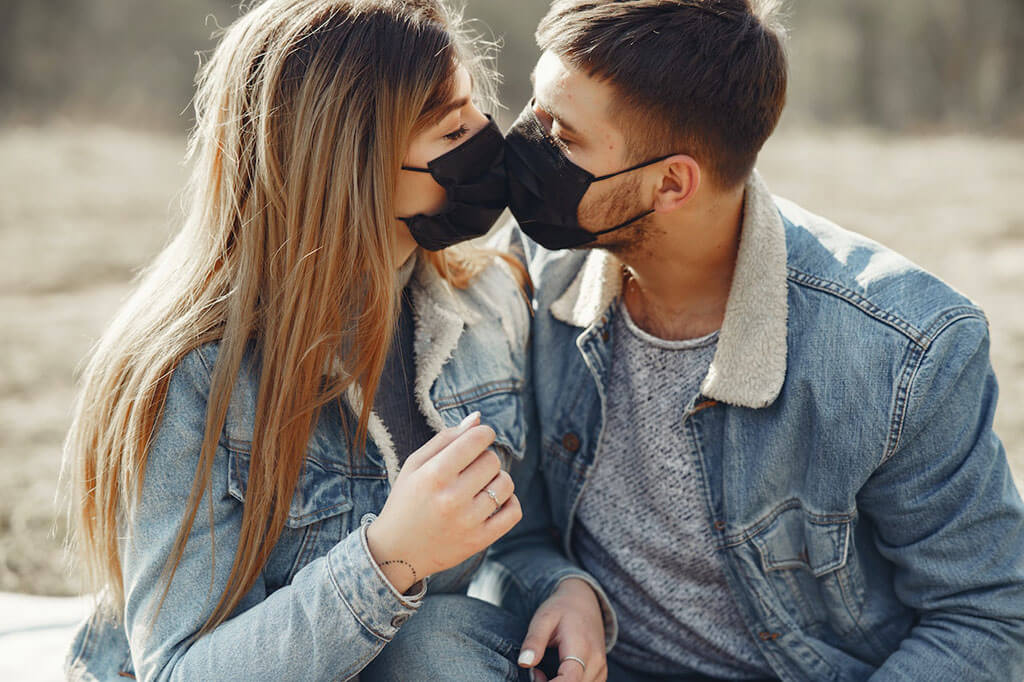 The World Health Organization has officially labeled the Coronavirus outbreak as a pandemic. More and more governments impose strict measures every day. The chances are that you are going to end up in lockdown. Some of the people are already in self-isolation. Bars, restaurants, and cafes are all closed. What dating option do you have?
Yes, online dating, messaging apps, and social media are apparent options when you are not allowed to mingle outside. But should you rekindle an old flame or look for new flings? It's a tough and not an easy-to-make choice. On the other hand, you should feel better because you are not the only one in this mind cracking situation.
To help you out, we did some research. There is a dangerous virus outbreak outside, and you should get all the information you need to make a smart decision. Let's see what's a safer hookup option during Covid-19; an old flame or a new fling.
Covid-19 Quick Fact Check
Before we dive into the specifics, let's go through what we know so far about Covid-19. It will help you build a relevant frame of reference and decide on your own what's a safer option once we list the pros and cons of hooking up with an old flame or a new fling.
When it comes to transmission, Covid-19 is highly infectious. You can get it via air, or by touching other people and surfaces and then touching your face. In the air, it can survive for three hours, but on hard surfaces, it can live a lot longer. For instance, on steel, it can stay alive for three days.
Why are we telling you this? To help paint the picture, going outside and hooking up with people is out of the question if you want to stay healthy.
Some sources state that people can carry the virus and feel no symptoms at all. Nevertheless, they can still transmit the virus to you.
Is it enough? Ok, now that you see that your options are limited and that you will have to rely on online dating apps and sites, and messaging services, let's get to the real stuff.
Old Flames and Temptations
You probably have at least a few old flames in your contacts. But with old flames, few temptations can prove very dangerous. First of all, there is the temptation of effortlessly talking to someone. You already had a relationship and starting a conversation is significantly harder than starting from zero.
You know what the other person likes and dislikes, and more importantly, you know which topics to bring in the conversation to keep it going. It's a benign temptation as it doesn't present any potential harm to you or your old flame.
Also, Covid-19 is an excellent icebreaker and makes getting in contact with old flames easy. A simple "How are you holding up these days?" will suffice. On the other hand, a conversation with an old flame can potentially lead to a scenario that is hard to avoid playing out.
With an old flame, you can immediately see where you stand. If the things go right, all those memories of two of you kissing and making it out in the bedroom, kitchen, bathroom, or an elevator will come rushing through your mind. All of a sudden you will start thinking about the "whens", "hows", and "wheres".
Rember, it's the Covid-19 outbreak. Leaving your home and getting physical with another person presents a risk. Will you be able to keep a cool head? Will you resist when you know that the jar is right there and the cookie is so delicious?
New Fling Opportunities
There is a limited number of old flames that you can get in contact with. And the chances are that some of them are in relationships at the moment.
With new flings, there is no risk of depleting their numbers and running out of options. With more and more people self-isolating every day, the number of accounts on online dating websites spikes up.
What does this mean, and how does it benefit you? New fling opportunities are countless. Before Coronavirus, there are tens of millions of people on online dating platforms.
Due to the outbreak, their number has significantly increased. Even if your search criteria is highly specific, you will probably get hundreds of people in your search results and be able to contact them.
When it comes to a conversation, some dating websites only have a messaging feature that supports wink, but there are more advanced platforms as well. The modern online dating sites offer video calls and also have dedicated mobile apps for iOS and Android to make it easier to find new flings.
What about the temptation of going out and meeting your digital-born fling? Well, it takes time to build that kind of relationship and trust to get out on a date after meeting someone on an online platform.
Covid-19 outbreak will not last forever, and you might just manage to get to the point of dating once the outbreak is over. But what about those apps and sites that are specifically developed to help people hook up? Aren't using those also going to induce temptation?
Hookup Apps and Sites
Yes, hookup apps and sites are the go-to places for people looking for quick and no-strings-attached encounters. But aren't you forgetting one thing? Covid-19 is a global pandemic.
Everyone is aware of it, and everyone knows that it poses a great threat. Finding a new fling willing to go out on a date in these times will definitely prove hard. How come?
Well, first of all, you can scratch the convenience of meeting up in a public place right off. Off all public spaces, you only have access to city squares and some parks. Although we can see many governments keeping parks off-limits at the moment. On top of that, those city squares are not as crowded as they used to be. Most people are staying at home.
While they still have the hookup prefix, these apps and sites have become more of regular dating sites. So, scratch the temptation of meeting your attractive fling in the person of the board.
Don't Forget the Downsides of Rekindling Old Flames
Rekindling old flames comes with a few downsides, which wouldn't be much of a problem if there wasn't a global pandemic. "What does rekindling old flames have to do anything with Covid-19?" you may be wondering. Well, it's not only your physical health that's on the line here but your mental health as well.
The times of self-isolation will take your mental health piece by piece. The experts are already worried about the Covid-19 psychosocial impacts. Emotional distress is common when people face an imminent threat. Add isolation and social distancing to viable threats, and you have a recipe for anxiety and compulsive behavior.
Adding more stressors to the plate can only worsen the situation. Don't forget that rekindling old flames can also negatively affect you.
1. You Can Feel Held Back
Dating world is not static, and neither are you because you are one of its moving pieces. Going for new flings means meeting new people, exploring new opportunities, and learning new things about yourself. Going for an old flame is not.
If you decide to go for an old flame, you will be preventing yourself from doing all the interesting things. You can start feeling held back, which can ignite the Covid-19 related psychosocial problems.
One of the best traits that can help you go through the Coronavirus pandemic is the ability to move on. And going back to old flames is quite the opposite.
2. It Can Bring Back The Bad Memories
There are plenty of bad things going around as you read this. Going for an old flame can potentially end up bad as well. At the start, it can appear great and fun, but remember, it's an "old" flame. Something must have happened for you not to be together. The chances are that it was something bad.
Sooner or later, dating an old flame will bring these memories back. Why would you force something to happen when initially it wasn't meant to be? There is no need to risk a struggle when you need to mobilize your mental and physical capacities to go through these hard times.
3. Heartbreaks Are Emotionally Exhausting
Remember the last heartbreak? It was probably emotionally exhausting. If you decide to open the doors to old flings, you will expose yourself to another heartbreak. Nobody says that new flings can't result in heartbreak. But old flames already did once in the past, and they'll probably end up with either of you being hurt once again.
Emotional exhaustion is not something that works well with self-isolation and social distancing. Yes, you probably feel comfortable with people you already know, but it is moving backward, while with new flings, you'll be moving forward.
4. It Can Be Overwhelming
Keeping track of old flames can easily create extra clutter in your life. Since they are part of your past, you will be focused on the past instead of looking at the horizon and hoping for a better future. It's the kind of clutter that can easily overwhelm you.
You already have so many things on your plate, dealing with old flames and reliving the emotions from the past will potentially leave you unable to cope with new challenges brought by Covid-19. Sometimes it's better to cut off old ties and explore new opportunities.
New Flings and Excitement
Online dating, meeting new people, and having new flings is not only an exciting but a lot safer option at the moment. With difficulties of commitment out of the picture and a lot of online dating opportunities, new flings might be a better option during the Covid-19 pandemic.
Here are some of the facts to consider when making your final decision.
1. The Abundance of Online Dating Sites and Apps
Finding new fling opportunities is easy nowadays because there are plenty of online dating sites and apps. Since you're spending most of your time at home, you can engage in online dating almost effortlessly.
Most of the dating apps and sites offer free features which are more than enough to find someone to talk to. Even if you decide to invest in the premium membership, it will still cost you less than your first date bill.
2. Flings and Fun Go Hand in Hand
Coronavirus has taken all of our spirits down. Fun and engaging activities are now welcomed more than ever. And flings are all about fun, excitement, and engagement. Whether you keep it only to flirting or you go to sexting and sending nude pics, we are sure that you will forget about Coronavirus for at least a moment.
3. Stress and Pressure-free Activity
Another great thing about having a fling is that there is no pressure. Nobody has any expectations of you, and you can be completely honest. It's dating, nothing less, and nothing more. Coming by a stress-free activity these days is hard, and online dating might easily be on the very short list of ones.
4. A Chance To Change Your Perspective
Coronavirus has us all worried and thinking of what comes next. Our perspective has shifted from living life to planning survival. Having an online fling has the potential to change your perspective. You can feel those butterflies in your stomach again and see the future as you did a pre-coronavirus outbreak.
There you have it. This information will hopefully help you make a smart decision on your own. If we are to give you any direct advice on whether it's safer to rekindle an old flame or go for a new fling hookup, there's only one thing to say.
No matter what you decide, make sure to abide by the advice given by your government and local authorities. Maintain your hygiene, try to avoid physical contact outside of the home, and eat healthily!
---