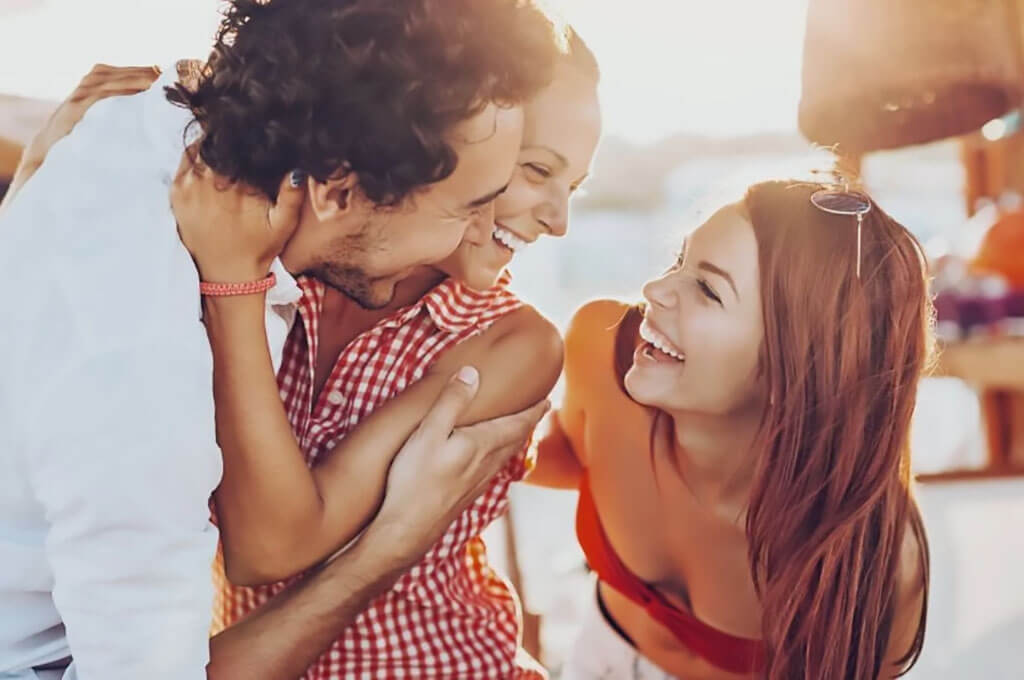 Everyone has a sexual fantasy – role-playing is a big one, for example. Some people are very interested in BDSM. Others still would like to explore their sexuality with different genders. However, the number one fantasy has always been having a threesome. While men are much more likely to fantasize about ménage à trois, many women wouldn't mind giving it a try either.
So, if you're lucky enough to be in a relationship with someone who doesn't think three is a crowd, no one would blame you for thinking you should jump on the bandwagon immediately – before anyone changes their mind!
While it may seem like a threesome is an opportunity of a lifetime, it's critical to hit the breaks for a second and give this arrangement some thought, especially if you're in a serious relationship. Casual sex with different partners has its perks, but a casual threesome could end up destroying your relationship, so you'll have to approach the topic carefully.
Take a look at a few critical rules for having a threesome that satisfies all the parties involved.
1. Make sure you and your partner are on the same page
It's always fun to talk about your sexual fantasies with your partner. You can safely explore all your possibilities, spice things up with some dirty talk, and just enjoy getting to know each other better. However, once these fantasies move into the realm of reality, things can get complicated.
Your partner might seem to be on board with the idea of a threesome, and they might love talking about it. They might not be ready to get down to it, however.
Both you and your partner need to be very open and honest about how comfortable you are with actually engaging in a threesome. Make sure that you're on the same page and that it's something you both want, not something you want to do just to please the other party.
2. Don't get into a threesome just because you're bored
Many people will suggest having a threesome as a way to spice things up in the bedroom. You're bored; your partner doesn't turn you on anymore; you haven't been intimate in a while. Introducing a guest to the bedroom seems like a good way to make sex exciting again. Unfortunately, not true.
Yes, threesomes are exciting. They can spice up your sex life and make you reconnect with your partner, but not if you treat them as a free ticket to cheating because you've gotten bored.
A threesome out of boredom will only hurt your relationship. Instead of putting effort and energy into pleasing your partner (and vice versa), you'll start relying on threesomes to fulfill both of your needs.
If you're bored, try toys, role-playing, discreet yet public sex. Maybe even go to couples counseling. Invite a guest into your bedroom only if that's something you and your partner genuinely want to do, not because it's something that you hope will improve your sex life.
3. Indulge in fantasy first
Unfortunately, not everyone is entirely in tune with their sexual desires. Some people think they'd be open to anything but find out that's really not their style a little too late. So, while you and your partner might believe that a threesome is an exciting option for you, that might not be the case.
Instead of going all in and risking getting your feelings hurt (and harming your relationship) because of a simple threesome, start slowly and treat it as a fun fantasy at first. Incorporate the topic into your dirty talk.
Try role-playing and using toys. They could be a great way to test how you feel when there are more things in your bed than you're accustomed to.
4. Choose your third wisely
Once you've decided that a threesome is a good choice for you and your partner, you should start thinking about who the third part of the equation could be. As a general rule of thumb, it's best to avoid doing it with someone you or your partner already know or are friends with. It can get pretty awkward pretty fast, especially if someone suggests their "platonic" friend.
A threesome shouldn't be a guilt-free way for either of you to have sex with your secret crush.
Fortunately, you have access to countless casual dating sites that cater to all tastes and preferences and enable you to meet your perfect unicorn. Some of these sites allow you to create a couples' profile and search for your guest star together. These sites are easy to use, you should find great matches without much fuss, and you can keep your sexual desires discreet.
As always, when using dating sites and apps, make sure that you (and your partner) stay safe.
However, if you want to spice things up even further, you might want to consider searching for your unicorn the old-fashioned way – by going to bars or clubs and chatting up random, willing strangers. It can be excellent foreplay and give you a glimpse into what a threesome would be like.
You and your partner would get a chance to see each other flirt with others and see how you feel about it. If anyone feels jealous or has an emotional reaction, you can quit before making a fatal mistake.
5. Do a bit of research beforehand
Although almost everyone has a threesome fantasy, few people give it much thought, even after they've agreed with their partner to give it a try. Threesomes can get confusing, whether they're FMF, MFM, FFF, or MMM. There are twice as many things to pay attention to, and figuring out poses and activities could be challenging.
That's why you might want to do some research before inviting a guest to your bedroom. The simplest way to research threesomes is probably by watching porn. Of course, that isn't to say that you should copy everything you see in it. Use it simply as inspiration for different poses and activities, don't use it as a blueprint for how threesomes should go.
6. Set clear boundaries
Nothing is as vital for a threesome as setting clear and precise boundaries. As a matter of fact, even vanilla sex requires some clear boundaries. So, sit down with your partner and talk about what you're comfortable with and what's a huge no-no.
Many couples will have rules such as no penetration with the guest star, no kissing, or cuddling. One of the most common rules seems to be no finishing with the third party.
Your rules depend entirely on you (and your partner). Calmly discuss what's okay and what's not. Consider things like where you'll do it and whether you'll have breakfast with your unicorn in the morning. Talk about whether you'd like to stay in touch with your guest star after the fact.
Are you comfortable with always having a threesome with the same guest, or would you prefer different partners each time? Do you feel comfortable entering a threesome with anyone of any gender?
Setting and respecting boundaries will help you and your partner relax and feel in control at the moment. There's no need to create a detailed plan of action, but going over a few of the essential rules of engagement will clear up any confusion and allow you to enjoy the experience without feelings of guilt or shame.
7. Come up with a safe word
Threesomes sometimes don't go as planned. You might change your mind in the middle of them and decide they're not your thing. Your partner might start feeling uncomfortable with what you're doing with your unicorn. Things can go wrong in many ways, so it's a good idea to have a safe word with your partner just in case.
Although saying something along the lines of "stop, I don't like it" would be a clear indicator that an activity should stop, not everyone feels comfortable saying it so explicitly. Your partner could be feeling too vulnerable to say it. You might feel guilty or embarrassed to say "stop" in front of your star guest. Whatever the case is, a safe word can prove to be most helpful.
8. Go on a date before you take things to the bedroom
While you don't want to have a threesome with someone you know, you do want to get to know your unicorn a bit better before taking things to the next level. That's especially true if you've found them online. A date out in public will help you avoid creeps, allow you to test the chemistry between the three of you, and give you a chance to see whether they're a good match.
Not to mention that an in-person date will allow you to discuss your rules, boundaries, and expectations.
After the date, take a moment to talk with your partner about your potential guest star, then schedule the real thing later on if everything seems fine.
Most couples don't want to invite strangers into their homes, so consider the best location for your encounter. You might want to book a room at a hotel so that everyone feels more comfortable.
9. Stay sober
A glass or two to loosen up and get the juices flowing can be helpful if you're nervous about your incoming ménage à trois. After all, if it's your first time engaging in it, you'll probably need something to calm your nerves. However, it's best for everyone to stay sober during the encounter.
Primarily, too much alcohol and sex don't mix well together. It can be more challenging to get in the mood and reach an orgasm. So, if you want to enjoy your threesome to the fullest, avoid booze (and drugs)!
Secondly, drugs and alcohol can lower your inhibitions and get you to do things you'll regret. It's more difficult to communicate, give consent, and understand what you're getting yourself into.
Make sure that everyone involved in the threesome is sober and enthusiastic about getting down and dirty.
10. Always use protection
Nothing can ruin a good threesome like unwanted pregnancy and STDs. No one wants to deal with that. So, always make sure you're practicing safe sex, regardless of how many people are involved in it.
Ideally, you, your partner, and your guest star should all get tested beforehand and use a reliable contraceptive. Still, it's always in your best interest to use a condom, even if everyone's STD-free and on the pill. An added layer of protection has never hurt anyone.
And remember – no double-dipping! If you're engaging in penetrative sex, change the condom before changing the partner, whether it's an FMF, MFM, or MMM threesome.
11. Debrief after the fact
Once all is said and done, there's usually still more to be said. Sit down with your partner and talk about everything that happened. Check whether your partner was happy with the experience and whether everything went as expected. See whether either one of you is feeling jealous, angry, or ashamed. Discuss whether a threesome is something that works for you or not.
It cannot be stressed enough how critical it is to stay open and honest throughout the experience, even if you're in a casual relationship with everyone involved. Stay true to yourself and others if you want to enjoy ménage à trois.
12. Take breaks to focus on each other
If you follow all the rules mentioned so far, the chances are that you'll have an unforgettable threesome that you'll want to repeat as often as possible. While there's nothing wrong with that, you'll still want to consider taking a break every once in a while. If you and your partner only engage in intercourse when there's another person in your bed, it could be a sign of relationship problems.
So, make sure that you have some time alone with your partner. Focus on each other and enjoy being alone. That's the best way to keep threesomes from harming your relationship.
Final thoughts
Threesomes are complicated, emotional, and often overwhelming, but they're likely the best sexual experience you'll ever have. If you want to enjoy them, follow the rules mentioned above, and brace for having the time of your life.
---