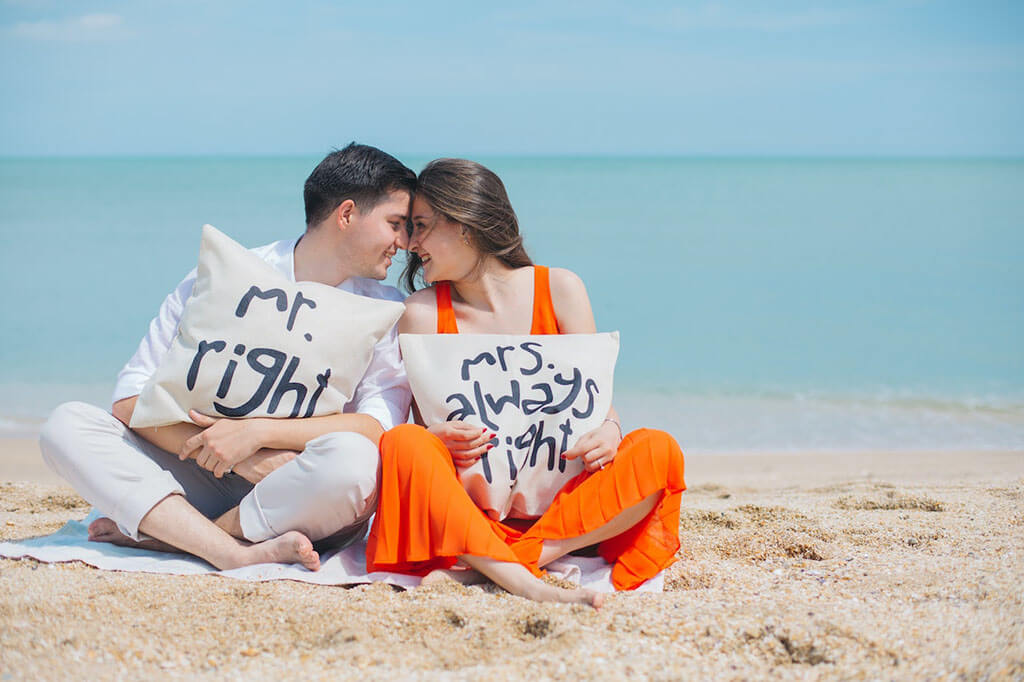 Casual dating is something an increasing number of people engage in. With no strings attached, individuals can focus on self-care, personal growth, friends, and professional life, without the additional burden of keeping another person happy.
It's also not uncommon for casual relationships to turn into something bigger and more serious, even with the relationships you're least expecting this change to occur. As people spend more time together and meet each other on a deeper level, a special connection is bound to happen.
Whether you're going to act on this bond or not depends on how ready you are to transform your relationship and bring it to a new level. Upon completing this article, you'll find out whether you're ready to take the plunge or if some additional time is necessary.
Without further ado, here are the 12 signs your fling is turning into something serious.
1. Texting is Different
One of the first things you'll notice if your casual fling is changing is the nature of texting. People who are part of casual hookups and flings don't text often, and the messages they're sending to each other are minimal and concise. It typically only involves the place and time of the meetup, and any other kind of communication is very limited.
Nevertheless, if you started to text each other more frequently and discuss all kinds of topics, that could be a huge sign of your relationship taking a different course. Furthermore, if your communication is based on asking questions, getting to know each other, and sharing additional information, there's a good chance your fling will evolve into something bigger.
2. Coming up with Nicknames
A part of every exclusive relationship is coming up with unique nicknames for your significant other. Nicknames often involve pet names, or other cute names partners identify with. In a relationship, they make the connection between two people even more intimate, and that's their sole purpose.
While nicknames are regularly part of traditional relationships, they aren't usually part of flings. If you happen to come up with unique nicknames for each other, it's most definitely a sign your casual relationship is moving to something bigger. The nicknames make the connection between two people more personal and intimate.
The same goes for inside jokes or anything else that just the two of you know. It's something only the partners understand and identify with.
3. Spending more Time Together
Finding reasons to spend more time both online and offline is yet another sign your fling might be turning into something else.
A casual fling doesn't require any couple to spend time together outside sex. Nonetheless, if you're suddenly going on dates, watching movies, going shopping, or going on a trip together, that's for sure a sign something more is happening between the two of you.
Even if it's just a regular trip to the grocery store or a walk in the park, if you or your partner are searching for reasons to hang out more often and keep each other company, your relationship will slowly but surely advance.
The reason for this is that we naturally want to spend more time with people we like. That being said, if you find yourself in a situation where you want your fling just to be by your side, you are ready to elevate your relationship.
4. Complimenting Each Other
Giving out compliments doesn't cost us anything, yet we don't find ourselves complimenting everything and everyone. More often than not, we even keep these complements to ourselves unless we're very close to the other person and comfortable enough to share them.
When it comes to compliments in a fling, it's not uncommon to receive them. Nevertheless, you'll notice they're mainly superficial and lack depth. These compliments are most likely based on your physical appearance and not your character. That's a simple indicator your partner only pays attention to your looks, which is a part of every casual relationship.
However, if you started to give or receive more genuine compliments that praise the character, personality, traits, way of thinking, or opinion on a certain topic, that's a clear sign your relationship isn't strictly physical anymore.
Giving out honest compliments that come straight from the heart is more complicated than it seems, so if you happen to give or get one, you're on the right path towards making your relationship more than a fling.
5. Leaving Things at Each Other's Place
Don't get us wrong – it's possible to accidentally leave some items behind, especially if you left in a hurry. However, purposefully leaving a toothbrush or a set of clean underwear isn't something you'd do in a casual hook-up relationship.
Because casual dating is based only on sex, there's no guarantee there will be another time when you two will meet. Due to the unpredictable and unexpected nature of casual dating, both parties can decide when they want to stop the arrangement without the previous justification or explanation.
Nonetheless, if you're leaving things at each other's place on purpose, it's a signal you're planning to come back and perhaps even spend the night. These two actions are a clear violation of the rules of any casual relationship and show you that you may be in for something more.
6. Changing Body Language
A sign showing your casual hook-up relationship is transforming into something bigger doesn't have to be so visible and in-your-face. Often, it's just a slight change in behavior that you'll be able to pick up on immediately.
Body language proved to be the best way to get to know the person and familiarize ourselves with what they're feeling. A defensive body language and keeping personal distance immediately tells us the person isn't fond of us or at least would like to get to know us better firstly. Quite contrarily, keeping close and frequent physical contact indicates an intimate and close relationship between people.
Suddenly reaching for your partner's hand, touching their knee, or wrapping your arm around them are all signs of intimacy, especially if your partner acts similarly. These romantic gestures will bring a new perspective to your relationship.
7. Sex Isn't Always Involved
The entire idea of having a fling is enjoying sex without any other obligation a serious relationship brings. Once you satisfy your needs, everyone goes back to their normal lives, as if nothing had happened. There's nothing wrong with this kind of relationship, as long as both parties agree on what they can expect.
As time goes by, these terms tend to change as the individuals become closer and more intimate with each other. Suddenly, they're spending time without any intention of having intercourse, which was the only basis for forming the relationship in the first place.
It clearly shows there has been a change in their relationship since sex isn't the only thing that's keeping them together.
8. The Sex is Different
Even though sex may not be the only activity you two engage in, it'll certainly still play a big role in your relationship. However, it's not uncommon to participate in intercourse with a different attitude and energy. As it no longer represents the pure physical attraction between two individuals, you'll see a change in your love life if there's a stronger connection between you two.
Intercourse filled with romantic gestures, care, love, and attention is the most fundamental feature of every caring and long-lasting relationship.
If you started to experience a different nature and flow of intercourse, there's a possibility you developed a deeper mutual connection that'll further lead you to other changes your relationship is about to go through.
9. Making Plans Together
As previously mentioned, flings don't tend to last a long time, and people certainly don't make plans with the person they're involved with. But, that doesn't mean your relationship couldn't move on to bigger things that'll include making plans together and forming a future while counting on the other person to be part of it.
Making plans together can involve anything from going to dinner, attending a concert, or going on a holiday. Whichever activity you choose, one thing is certain – there's a mutual interest in spending more quality time together if you're planning these kinds of plans.
Moreover, the consistency also dictates the future status of the relationship between two individuals. If you're making time in your busy schedule to squeeze in a date or even organize a nice evening in, it's clearly showing your intention and willingness to make plans in the future you're both going to participate in.
10. Sharing Personal Details
Flings aren't based on any kind of intimacy besides having casual sex without feelings attached to it. That's why sharing personal or sensitive information is out of the question in this type of relationship. Even so, many couples get closer to each other over time and find a true friend in the person they're sleeping with.
After that, sharing details and stories from private life becomes the new normal. What's more, some even find a confidante who knows all of their secrets. Sharing personal information can also include searching for opinions or advice on a sensitive topic.
In all these situations, people show they value and trust the person on a more profound level.
11. Introducing to Friends
Slowly reaching the end of this part of the article, if you happen to merge your fling with friends and family, there's almost no coming back to just being casual hook-up buddies. Introducing your fling to friends will immediately spark interest and curiosity you won't be able to avoid. Meeting your fling with your family members is even more serious.
When someone decides to include their fling into their private life and affairs and thus meet them with friends and family, it's a clear signal they're trying to make something more out of the relationship.
Before making this big step that'll most likely change your relationship forever, it's crucial to consult your partner and see whether they're comfortable with something like that.
12. Sharing Deeper Feelings
Finally, if you simply start feeling different around the person you're having a fling with, you might be developing deeper feelings. It's a particularly sensitive topic since you can never be 100% sure of the other person's feelings and intentions, even if you're ready to take the relationship to the next level.
In this case, you'll want to closely examine the behavior of your significant other before deciding to profess your love. That way, you'll avoid embarrassing situations and not have your feelings be returned.
However, always remember to respect yourself first and don't stay in a casual relationship that leads nowhere just to be close to the person you have deep feelings for.
Casual Dating FAQ
1. How can I find a fling?
Nowadays, you can find a fling in just a few clicks and swipes. The Kasual dating app lets you connect with people who share your needs, preferences, and opinions, thus being your perfect match.
2. Am I moving too fast?
There's no such thing as moving too fast, as long you and your partner both feel comfortable with the pace. Communication is the key to set and respect certain boundaries you're not ready to cross yet, ensuring both parties have a safe and pleasant experience.
3. Is my fling becoming serious?
If you're noticing some or all of the abovementioned signs, then your fling is most likely becoming serious. The best way to determine this is by comparing the relationship you had at the beginning vs. now. That way, you'll easily know if there was a change.
4. Should I profess my love?
Several factors influence this answer, and there's no universal solution for each situation. Deciding whether you want to profess your love or not depends on how ready you are, how close you are to the other person, as well as whether you're ready to face both the positive and negative outcomes.
---