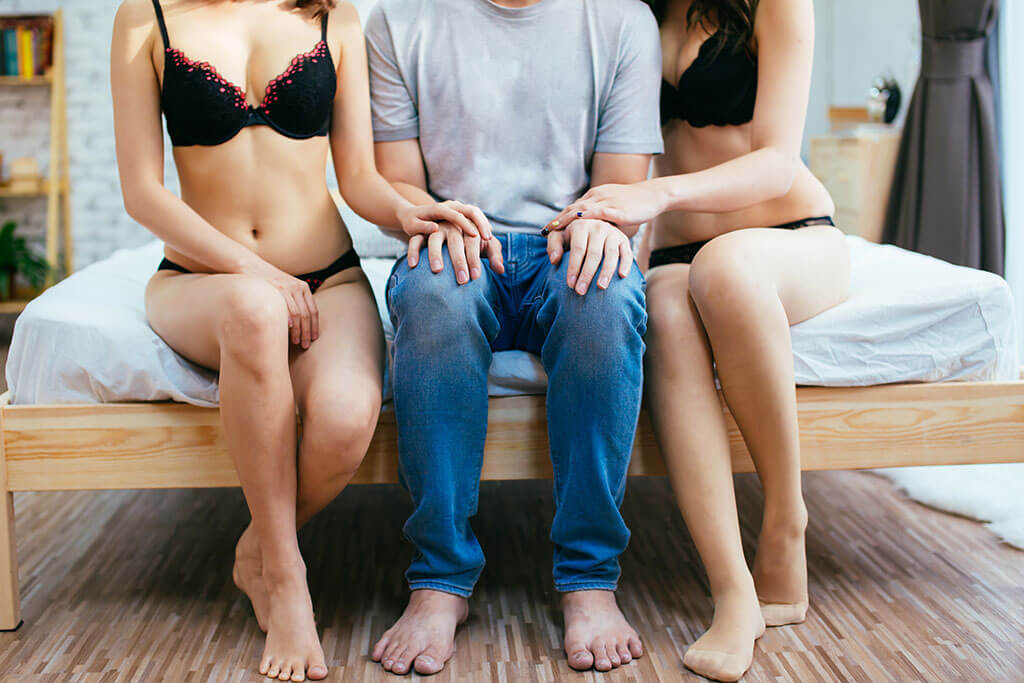 Ménage à trois, or simply a threesome, is uncharted territory for many people. Some find it tricky or too hard to navigate. Nevertheless, many people would like to try it at some point in their lives, if not now. More precisely, a survey finds out that 82% of males and 32% of females respond they are interested in having a threesome.
However, if it doesn't come naturally to you, you might find everything related to it hard to wrap your head around, let alone try doing it.
First, you need to find two other people willing to try it. Then you have to manage the "situation" and take care of the positions, notice subtle cues, and still manage to enjoy it. It's massive and can sound like a lot to handle. However, when you know what you are doing, organizing threesomes and taking part in them can be very easy.
This is precisely why we are here!
Below you will find everything you need to know about threesomes, ranging from where to look for partners to what are the best positions for a threesome.
What is a Threesome?
Let's start with the basics, shall we? Fortunately, understanding what a threesome is, is quite straightforward. It is a sexual activity that involves three people. All parties must be willing to participate in the threesome.
Over the years, the concept of a threesome managed to work its way through the boundaries set by religion and conservative cultures. Today it's just an exotic way to give in to sexual pleasures and give pleasure to more than one person.
The threesome comes with its own terminology. One that you must understand before you engage with people interested in it.
MMF
MMF is short for two men and one woman. You can often see it in the listings, often attached to looking for either one more man or woman.
FFM
FFM stands for two women and one man. The listings with underlined FFM are pretty attractive to men because having sex with two women is a dream many men share.
There could be other variations, including the letter T, which stands for transgender. You might stumble into some of these listings too, and knowing what the T stands for will help you decide whether it is something you would like to try or not.
Know Where to Look for Partners
The threesome playground is not leveled for both sexes. For instance, women are highly sought after in the world of threesomes. How come? Many couples want to light their spark by inviting a third person to their bed. And in many instances, this third person is a woman.
In fact, it is so common that there is even a name for women couples are looking for. They call them unicorns. Why unicorns? Unicorns are rare, right? Well, so are unattached women with no baggage at all. See the connection?
So, where to start looking for threesome opportunities? You have plenty of options when it comes to where to look for partners for a threesome. The most straightforward and convenient way is to use dating websites and apps. Other proven methods work as well, including saunas and members-only sex clubs. If you feel confident enough, you can even go out and look for opportunities in clubs or at parties.
When it comes to threesomes and dating websites/apps, there is one thing you should know. Not all dating sites and apps are created equal. If you use a site or app that attracts people interested in committing to serious relationships, your chances of having a threesome are pretty slim.
You should be focused on websites specializing in connecting people interested in casual flings and hookups, such as Kasual App. There are also many alternatives that you can add to the mix to extend your search and improve the odds of making your threesome dream a reality.
Members-only sex clubs and saunas are also viable for threesomes. However, many of them either require you to bring a partner or pass some attractiveness test to enter or become a member.
How to Get Your Partner on Board?
Your palms may get sweaty just thinking about telling someone you already date that you want to sleep with someone else. It applies to both men and women. Things might seem even worse if you are in a long-term relationship. Don't despair; there are ways to do it.
First, and foremost you should assess your relationship and be brutally honest about it. Many people turn to a threesome to mend some wounds and repair their relationships. Unfortunately, it doesn't work this way. A threesome, no matter how good it is, won't help you get rid of insecurities in your relationship, nor will it resolve any trust issues you or your partner have.
A threesome can help you reignite the passion in your relationship, but only if you and your partner completely trust one another. If you think there is trust between you and that your partner has no doubt who you love and where your loyalties lie, feel free to come forward with the threesome idea.
Don't make it sound like something that you must try. Try to make it a topic of conversation. You have your desires and preferences; the chances are that your partner has them too. Hear them out, and be willing to compromise.
Ask them who they find attractive, what they would like to get out of it, and if there are any boundaries they would like to set. Nothing beats a good old compromise when it comes to getting your partner on board to have a threesome.
The Location Matters
Unlike one on one action, which can literally take place anywhere, a threesome requires some elaborate planning. The location matters, especially if you are in a relationship. The location you choose can affect the threesome experience and potentially change the aftermath. The two most common options include doing it at your home or at a hotel.
Don't get us wrong; there is nothing wrong with doing it at your home as long as you are aware of what it can potentially mean. For instance, it can be pretty hard to make it a memorable event when you do it in the space you spend the most time in.
Furthermore, some people associate spaces with events. Having a threesome in your home can "pollute" the experience of your home for you or your partner. You might even find it too hard to spend time there and end up having to move.
On the other hand, hotels are a much safer bet, not to mention that they can make a threesome even more exciting for you. You can turn a threesome into a special event for you and your partner. Plus, both of you would be in a neutral location. More importantly, a place that both of you will leave and probably never return to.
You can engage in threesomes while traveling too. Travels are often packed with positive emotions such as excitement and happiness. You will be far away from home in this exotic location that can inspire both you and your partner to try something new. Here are some of the tips you can use to find casual flings while traveling.
It All Boils Down to Asking the Right Questions at the Right Time
Couples generally have an easier time finding a third person for a threesome. Single men and women are the ones that often need help. How do you ask someone if they want it? When do you pop the question? To do it right, you should gauge the situation and mood the people are in.
First, you need to loosen up. If you feel confident you won't need any help, you will easily maneuver these situations. However, some people find this too stressful and can feel anxious asking someone to join them in a threesome. Those of you who need some confidence boost can have one drink.
Initiate the conversation with a couple you meet in a bar or online just as you would. Say hello and introduce yourself. You will be able to see whether they want you in your company or not. The same applies to couples who want to get some threesome action. The rule of the thumb is to offer to pay for drinks; if they accept, you can introduce sex as a topic at one point.
Keep your fingers on the pulse of conversation. You will be able to tell if sex was welcomed as a topic or not.
Asking the question online is much easier than in person. However, we wouldn't advise doing it out of the blue. Start the conversation naturally and work your way towards popping the question. If you are explicitly interested in threesomes, feel free to disclose your desires and preferences in your online profile description.
Is There Anything Special to Know if I'm Hosting a Threesome?
If you are running solo or you're hosting a threesome as a couple, there are a few things you should know about. First of all, you should make sure to stock up on condoms and lubricants. Sex toys are an excellent addition but make sure to discuss using them upfront. There is a variety to choose from, ranging from vibrators to rings and plugs.
Make sure to have the room fixed for a threesome. It means candles, essential oils, and clean bedsheets. Finally, you should have some food available. It doesn't have to be anything fancy; snacks will do just fine when you need to get your energy levels up fast.
It's pretty standard for people to make quick breaks, run to the toilet, clean themselves up, and come back. Make sure you have plenty of hot water and extra towels in your bathroom. All of it applies whether you are having a threesome at your place or in a hotel.
Best Positions for Threesome
There is no such thing as the best sex position. It also transfers to threesomes. The best position for a threesome is that you and the other two people find the best. Every person in a threesome should feel good. So, before you go wild, make sure to ask them if there is any position or thing that they would rather not do.
Most often, a threesome implies that two-person have penetrative sex. Meanwhile, the third person is engaged in oral sex. However, there are a lot of variations, and it's ultimately up to you to choose what suits you best.
If it is the first time for you, you can find a position that you thought you would like all of sudden, not pleasant. Feel free to tell others that you don't like it. Be open about it. If somebody else has a change of heart, respect their wishes. There is no need to push people over their limits and expect them to pretend to enjoy things they don't.
Minimize the Sexually Transmitted Disease Risk
Having sex with strangers calls for some caution. Your safety should be your primary concern, but don't forget about the safety and well-being of people with you.
Even if you make arrangements that everyone gets tested against STDs, you should prevent unwanted pregnancies. This is why you should always wear a condom or make your partner wear one. Don't forget to change condoms before you change partners too.
Dental dams are great for preventing STDs which can be orally transmitted. The rule of the thumb is to have a dental dam for every woman in a threesome. Finally, if you decide to use sex toys, it would be wiser not to transfer them between partners.
There you have it. Hopefully, we've answered the majority of the questions you had about a threesome. Experimenting and trying new things is always fun. With all those great dating sites and apps, the chances are that you will be able to do it sooner than later. Rember, it is all about pleasure and fun. The more relaxed you are, the better!
---