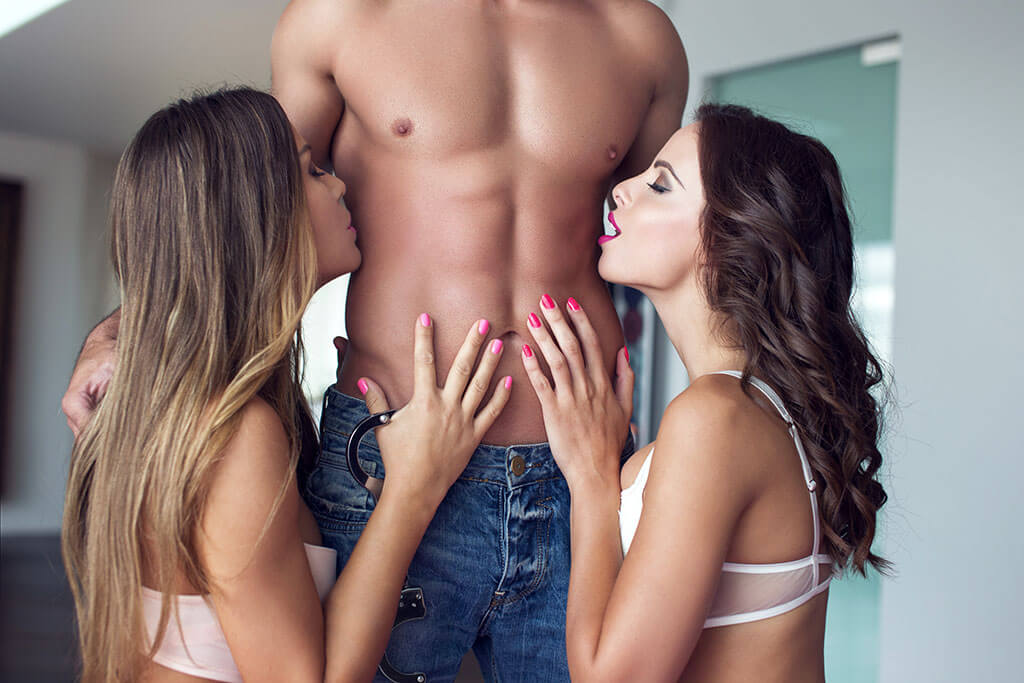 It's no secret that a lot of couples decide to spice up their sex life sooner or later. People like to try out new things and keep things fresh in the bedroom. Plus, when you know that there are a number of creative ways to have a better orgasm, you're bound to give at least one of them a go.
So, that's how some people end up trying outdoor sex, while others turn to roleplay or BDSM. And then there are those who opt for a threesome.
Have you ever fantasized about being a third party for an open-minded couple, or engaging with two sexy girls on a Saturday night?
From a woman's perspective, a threesome with two men is a sensation like no other, because all the attention is focused on her and her alone. For men? Just the feeling of being with two girls at the same time can work wonders in the bedroom.
If a threesome is one of your fantasies, then you are in luck, because today we are going to go through some of the best sexual positions for a ménage à trois that will make your sex life far more interesting. Let's have a look!
1. The Double Cowgirl
A very simple, yet very pleasurable position for all parties involved in a threesome.
You lie on your back, with two girls on top of you. Both of them have the option to face each other and make out.
It's one of the most commonly used positions, because it allows freedom of movement and guarantees incredible pleasure. Additionally, the girls on top have more freedom to play with each other, and the best part is that you have the front row seat to all the action.
The first woman rides you, while the other one kneels over your face and has you give her an oral.
Remember: a threesome is at its best when all parties are in sync. That means that if your partner on top starts getting a little jealous watching you in action, you can tell her to turn around and focus on your mutual friend.
The benefit for men is the fantastic experience of pleasing both girls at the same time. This will be a story you will remember for a very long time. If you haven't tried this position or you maybe want to do it again, just remember to put a pillow under your head for extra comfort.
2. The Doggy Blowjob
It may not sound like much, but it's definitely a popular position you don't want to miss out on.
For women who feel more submissive in the bedroom, the Doggy Blowjob will be one of the best things they've ever felt. After all, there is nothing wrong with having two strong guys on either side of you, is there?
After teasing and playing for a while, the woman gets to enjoy both her partners from front and back, while kneeling down.
Remember that we mentioned the submissive aspect of the whole thing? Due to the overwhelming sensation of the Doggy Blowjob, the woman won't get to move a lot or think too much. Instead, your lady partner will be too busy enjoying being taken by one man from behind and giving oral to another one. As we said: perfect for all the submissives out there.
The benefit of this position is that no one leaves empty-handed, and everyone gets a piece of the action. We can guarantee that once you try the Doggy Blowjob, you will definitely be impressed.
3. The Doggy Train
From one doggy position to another, we can conclude that doggy style is one of the most animalistic and intense sexual positions. It drives women crazy and since it's usually associated with rough sex, you can imagine how men feel about it.
When engaging in a threesome, this can also be a very nice option for all parties involved. Keep in mind that it can be used by two girls and one guy or even three girls or three guys.
What does it look like? Both women should be on their knees, one in front of the other, hands firmly grasping the bedsheets. While you have fun with one of them from the back, the other girl receives oral pleasure or gets fingered by the girl you are entering doggy style, making a chain or in this case a "train" reaction. If you throw in a strapon, you can really get creative here.
The benefits of this position are numerous. For starters, you can choose to make your girlfriend the one you are entering, in case your partner doesn't want you to have too much contact with the other woman. The other benefit is that the harder you play, the harder your partner will pleasure the third party.
This position is very interesting because the partner at the back can dictate the speed, intensity of the game, and as a woman the feeling of chain reaction of being licked or fingered dictated by the performance of the third partner doing the thrusting can be quite exciting, because you never know what to expect.
4. 69 Plus 1
We have all heard about (and tried) the infamous 69, but you can always go one step further and make it more interesting. Adding a "plus one" to the mix creates a whole range of opportunities that can help you achieve the ultimate pleasure.
You start by having your partner lie on her back, while the second woman gets on top of her—just like a regular 69 position. In this position, you can be sure that each woman will be pleasured and entertained while a guy will have that luxury of penetrating either one from behind.
This position is great because you can rotate (unlike the standard 69 pose), and the plus one can focus on exploring all your bodies, giving you, your partner and herself the ultimate pleasure.
The 69 plus 1 can be a little tricky to pull off, because it requires balance and movement, but that is exactly what makes this pose as fun as it is.
Also, while maintaining this position, three women can play with each other either by licking, kissing, fingering, biting, etc. The important thing is to focus on the sensation and the exploration of each other's bodies.
Of course, you don't have to start playing right away. You can stay on the sidelines for a while, simply watching, and join in on the fun later.
Just make sure you have a lot of room on the bed, and that everyone's as comfortable as they can be. After all, you'll want to be able to move easily.
And don't forget: when it comes to experimenting, three is never a crowd.
5. Tag Team
For this one, it's best to rely on your best friend. It may sound silly at first, but for those of you who aren't familiar with this position, Tag Team refers mostly to MMF threesomes i.e. including two men and one woman. However, couples with other sexual orientations can achieve this goal, as well.
Let's be real, we have all had that moment with our bestie when you both got interested in the same hot girl at the bar on a Saturday night. Now let's imagine this girl agrees to have a threesome with both of you. Tag Team is the best choice, as it guarantees a good time for everyone, and here is how it works. 
In this position, the woman lies on her back and close to the edge of the bed, with her legs hanging over the bed. While on the bed, one of the men can kneel between her legs and penetrate her.
While in this position, your bestie has a variety of choices on what to do before you tag him to take over—that's why it's called Tag Team. In the meantime, your friend can sit next to her face and make that girl suck him off, or just enjoy the show. The possibilities are endless.
If by any chance there are two women and a man in the threesome, you can apply the same bed position as in the previous example. As one of the women lies on her back on the edge of the bed, your girlfriend can sit on her face for some nice oral sex.
6. BDSM Play
For those who are into BDSM play, we can safely say that there is nothing better than watching your partner screaming for an orgasm through a ball gag, while your third party is ordered to play between her legs.
Ball gags, whips, rope, handcuffs, stockings and boots are just the tip of the iceberg.
Have you ever wanted to be dominated by hot women wearing black latex boots, or maybe you fancy having two slaves who will fulfill your every wish? Let's explore what BDSM has to offer, for you and your partner.
This is likely one of the kinkyest ways a threesome can be experienced. It leaves room for creativity and fun at the same time. However, for those who are more gentle in nature, it doesn't necessarily have to involve pain.
Some simple light bondage or a blindfold can be an interesting add-on to your foreplay. There's nothing wrong with toys, right?
For those who like to be submissive, there's nothing better that being tied up with you partner and performing sexual acts for your third-party mistress. If you feel more on the dominant side, you can play with your primary partner and make her pleasure your third-party Sub.
What makes BDSM so great for people who enjoy threesomes is the use of different toys and rules which makes the foreplay all the more interesting.
If both primary partners are feeling submissive, it's easy to relive your fantasies. There are numerous BDSM sites that are full of people who are into a higher level of kink.
As we mentioned before, the possibilities are endless, as long as all participants are familiar with each other.
BDSM is also tightly bound to role play. Perhaps you'll enjoy pretending you are in a job interview and will do anything to get the job, or maybe your roleplay fantasies involve having your partner or your third party friend pretending to be a nurse or a hot doctor.
Like we mentioned, everything becomes an option as long as you and your partner are willing to let loose and explore each other's secxuality.
Conclusion
We all understand that a threesome can be a huge turn on, and seeing your sex partner getting intimate with someone else while you get ready to join in can be an interesting experience. However, you need to remember that trust is very crucial in every relationship.
If you and your primary sex partner want to spice things up in the bedroom using a prearranged threesome, there must be a mutual agreement. In case either one of you has trust-related issues, then this would not be a good idea.
Another thing that makes a threesome so hot and sexy is that everyone gets to be part of the action and the experience you gain from the whole thing is irreplaceable.
With great pleasure comes great responsibility, however, and a lot of people will need to ask themselves if they are ready to share their partner with someone else. A threesome is not scary and it is not a bad thing, but before you decide to give any of the positions or ideas a try, be sure to talk to your partner about it.
And if you both agree on everything? Then it's time to go wild.
We guarantee that pleasure you and your partner receive will be unforgettable, and you'll end up having a lot of fun,
Plus, when you and your partner engage in a threesome, your self-confidence will grow, and your relationship will look and feel much healthier. Sexuality is like an art form: it must be practiced. It grants you a sense of power when it comes to self-respect, and you can be sure that your sexual triumph will be grand.
---