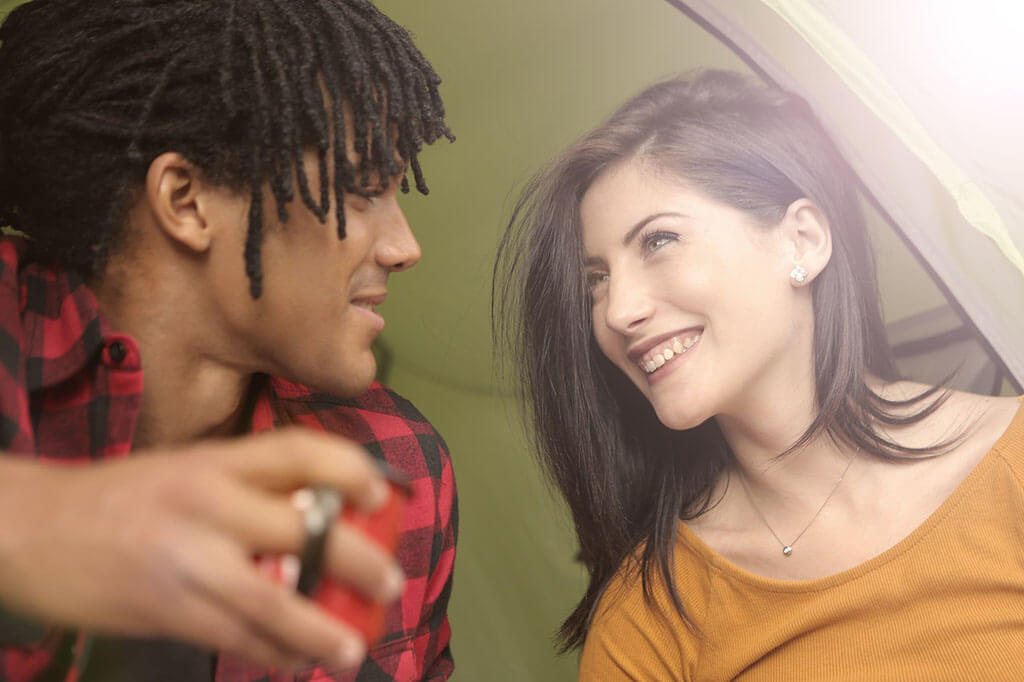 For many people in a relationship, sex is a very personal, intimate thing. On the other hand, sex is something beautiful that makes two people come together and join in a harmonious explosion of pleasure and pure emotions.
As long as it's consensual, sex isn't and can't be wrong. If you're in a committed relationship and you feel like experimenting a bit with your sexuality, there are many different ways you can approach it. Craving a new sexual experience is nothing new for people in long relationships, and bringing a third person into your bedroom can reignite the flame between you and your partner.
However, it can also result in a disaster. If you're wondering how to ask your partner to try a threesome and still live to tell the story about it, we're going to help you avoid complications by giving you useful advice on preparing your partner for bringing a third person into your sex life.
First of all, a threesome should be fun, an adventure that you'll both enjoy. Start by having an open and honest conversation about it before you pop the question.
Put yourself in your partner's shoes. They will be shocked at first, thinking about their relationship with you going down the drain. That is a catastrophe you'll want to avoid. Shifting focus from complete and total commitment to an open relationship requires a bit of preparation and a good dose of patience.
You need to set precise ground rules around how you will proceed with these casual sexual activities. Since this requires a high level of communication and transparency, here's how you should proceed.
Test the Waters for Starters
Since you don't have a clue how your partner will react to your threesome proposition, you should act respectfully. First of all, test your partner's comfort level with threesomes to see where they stand on the matter before you get to the point.
Bring it up like you would bring up other sensitive topics – with a sense of openness, vulnerability, curiosity, and inquisitiveness. Make it more of an open discussion as it's much better and more respectful than just telling or informing your partner. Ask them how they would feel about it and whether they'd do it or not.
Make a series of questions, such as:
Have you ever thought of having a threesome?
Would you like to have a threesome with me?
Have you ever done it with a third person?
If Things Go Well, Try Having a Threesome Sandwich
If the initial testing phase goes well, try having a threesome sandwich before the real thing. When you better think of it, it makes perfect sense. It's like asking your parents for money when you were a kid.
First, you compliment them, then ask for money, then show your gratitude by telling them how much you love them. The same goes for your threesome situation. Start the conversation by showing your love and affection for your partner.
Tell them how much you appreciate them and the intimacy you guys share. Gently mention that you're having some thoughts about taking things to the next level to elevate your intimacy.
Spice things up a little by saying that you strongly believe the best way to connect with your partner on a higher level is to share an exciting experience, and the threesome sounds like a great idea. Add that you're perfectly happy with your sex life together and that you want to make things better for that exact reason.
If They're Still Not Up for it, Talk it Out
If your partner doesn't want to do it, there's little you can do about it. However, don't let it discourage you. If your partner doesn't want to get into it, but they're not giving clear reasons behind their adverse reaction to the idea, you can still change their mind by sussing it out.
It's only normal to ask why they are against having a threesome. You must ask them from a place of being curious about their decision rather than trying to manipulate them into doing something you want them to do.
The trick to actually getting them to do it is to understand their reasons and concerns. If you can relate to their apprehensions, you could potentially help address them without forcing them into doing anything against their will.
Remember, it takes both of you to have a threesome, and doing it for the sake of fulfilling your fantasies isn't only unfair but selfish. Talk it out to assure them that everything will be ok and that this is only about expanding your relationship and intimacy.
Don't Assume Anything
Many people wrongly assume that their partners will be up for anything just because they are together in a relationship. Even if your partner already had a threesome, it doesn't mean they're up for another one. In fact, it's best not to assume anything.
If they already had one, the chances are that she had a bad experience and didn't want to repeat it. Your partner may be more into having traditional sex. If that's the case, they won't take kindly to you asking for a threesome.
Ask your partner about it without any expectations, and be prepared for all sorts of answers. If they say yes, talk about freedoms, limitations, and boundaries to set some rules about how you're going to proceed.
If They Agree, Work on Finding the Right Partner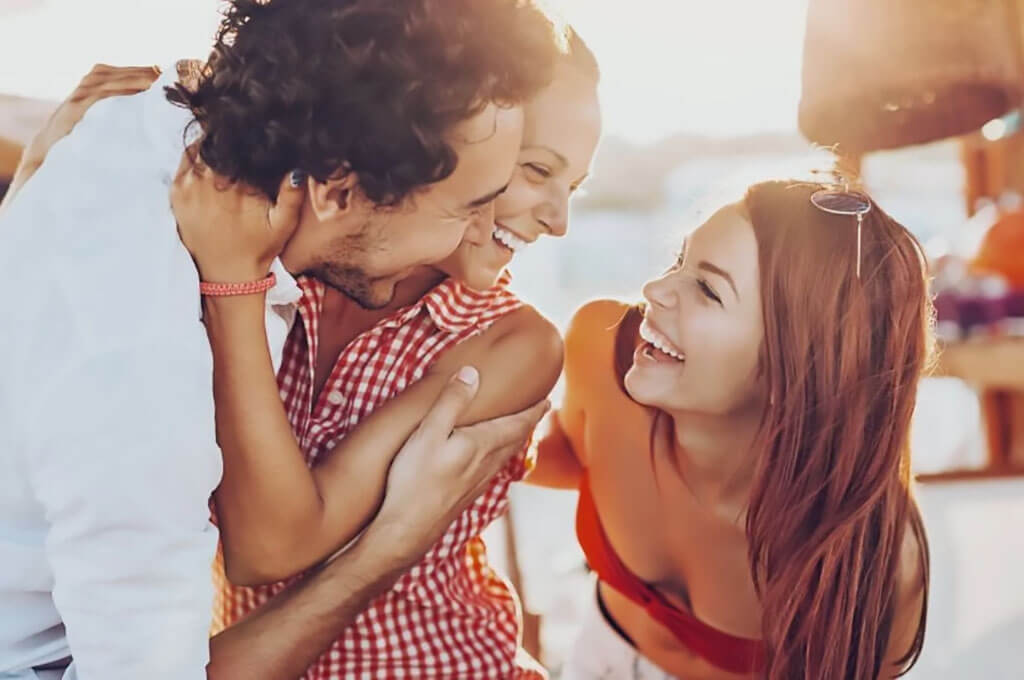 Finding the right casual partner can be a bigger challenge than you know. If you don't know where to begin, take the single-strangers route and find a single partner who enjoys having threesomes with strangers.
On the other hand, you can ask someone you both know well – that part is up to you. Whatever you do, you don't want an angry girlfriend or boyfriend or husband finding out about your little escapade and coming after you all.
The best way to get to the bottom of this is to ask your partner whether they'd have a threesome with their best friends or total strangers. Just keep in mind that choosing the wrong partner could end in a complete disaster that will ruin your chances of ever bringing that topic back on the table.
If your partner decides to go with a stranger, you can attract the right partner by creating a profile on a threesome site.
Get your Partner in the Mood Before You Ask the Question
Asking such a question can result in many different scenarios. Since you don't want to leave anything to chance, try to get your partner in the mood before you get to the point. It might be a good idea to get a little drunk, just enough to burst into laughter by merely looking at each other.
Start with light cocktails and play it naughty all the way. Once your partner is totally in the zone, ask them about their opinion on trying a threesome. Choosing the right moment to have your little drinking party is crucial to your efforts, as asking them when they're not in the mood could only result in a negative answer.
You can also make things even more interesting by preparing a nice meal to show how much you care for your partner before you ask them. When everything is set, gently pop the question clearly and honestly to let them know what's on your mind.
You can also try sexting with your partner if you're apart due to the outbreak of coronavirus. Sexting is an excellent way to have a sex chat with your partner and ask them all sorts of things in the sexiest way possible.
Make it Exciting for Them
Whatever you do, do not bring a threesome up as a way to spice things up in your bedroom. We get it that long-term relationships can get a bit stale and have boring phases, but if you point this out to your partner, you'll only hurt them and make them feel insecure and unappreciated.
It could even lead them to break up with you. If you make them feel inadequate and boring, they'll misunderstand your intentions, and it will end in a total disaster. Instead, try a soft approach and make things more exciting by starting a healthy debate to check their stand on the matter.
Try to name a few great things about having a threesome and reflect on how it can spice your relationship up in a healthy way. Even if they don't agree with you at the moment, there is still room for improvement.
Prepare Yourself for Dealing with Jealousy
Threesomes can easily spark a wide range of complicated emotions, with jealousy being the most problematic one. Your partner's, or better yet, every partner's nightmare scenario, is that you get more interested in the threesome partner than them.
The fear of getting ignored during and after the threesome can make them question everything from your faithfulness and loyalty to your love. More importantly, it's only normal for them to start thinking that you might be having an affair or that you like someone else more than them.
All these thoughts can weigh heavy on them. Still, you can make things a lot easier for the both of you if you reassure them of their importance to you and that you're not doing this for the sake of having sex with someone else but rather for the sake of experimenting and playing with your sexuality.
You need to be understanding and forthcoming and not act like their concerns don't bother you. Remind them they are the light at the end of your road to make them feel loved, important and appreciated.
Things to Avoid when Asking Your Partner to Try a Threesome
Now that you know how to proceed with your threesome plan, we're going to conclude our story by pointing out some things that you should avoid when asking your partner for a threesome:
Do not insist on having a threesome.
Do not use a threesome as an excuse to impress your partner.
Do not expect your partner to agree without previously having an open conversation about it.
Do not look for the third on dating sites without consulting with your partner first.
Do not forget to try different options before you invite the third person.
Do not invite the third person looking for something completely different, as that will only ruin the experience for all three of you.
Do not ignore your partner while in a threesome.
Do not forget to come up with some basic rules.
Do not propose a threesome by asking to sleep with a hot friend of your partner.
Threesomes aren't a common thing for people in committed relationships. Couples aren't into those movie scenarios where having a threesome with a handsome stranger happens every minute. Things are much more complicated in real life, and instead of having a blast, you can end up with new relationship problems.
A threesome shouldn't be a way to get into the pants of someone you find hot, sexy, and attractive or a getaway for you to get laid. There are three of you in the equation, and all three of you need to get off without making anyone feel excluded or ignored. In other words, it takes time, effort, and patience to get there. However, it is possible if you both put your minds to it.
---