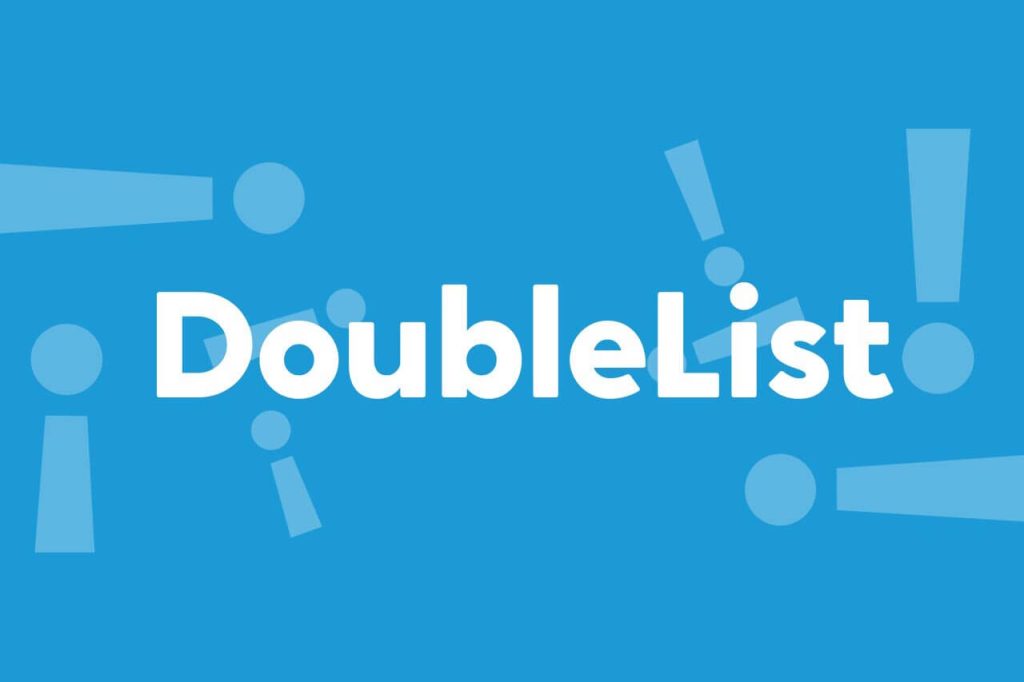 | | |
| --- | --- |
| Category | Rating |
| Popularity | |
| Quality Matches | |
| Ease of Use | |
| Value of Money | N/A |
| Overall | |
It's been a couple of long years since Craigslist had to shut down the personals section, the most popular category among singles of all sexual orientations and tastes.
Around that time, a handful of new websites launched, hoping to provide a place of refuge for Craigslist's homeless crowd. One of them was DoubleList, a clunky, out-fashioned website that reportedly hosts around 3 million weekly users.
The question on everyone's mind was this: is DoubleList a worthy successor?
We've spent some time on this dating website testing the waters so that you don't have to.
This review is a detailed summary of everything we've learned about DoubleList. We've gotten to know the crowd, the culture, and the website's many rules and codes of conduct. We know privacy is important to you, so we've tested that, too.
Here's everything you need to know about Craigslist's most popular successor, including the answer to one critical question – what is DoubleList's hookup success rate?
Let's start from the beginning.
What is DoubleList?
DoubleList is a dating website for personal adverts. It launched in March 2018, right after Craigslist's Personals shut down in response to a sex-trafficking bill the US Congress passed.
DoubleList aims to replicate the carefree environment of Craigslist's personals section, complete with classified adverts for finding casual encounters.
How does DoubleList work?
Being an alternative to Craigslist's popular listing model, DoubleList is not your typical dating site. That means there are no user profiles, at least not classic ones that you can see on social media or other adult dating sites. Instead, you introduce yourself to other users by posting ads and responding to them.
If you want to talk to someone you meet on DoubleList, you message them directly.
When you see an ad you like, you respond to it by sending a private message to the user who posted the ad. Along with it, the user will receive your email address. The message can include text and your photo, but be careful what you send – DoubleList has a posting limit for ads and photos.
Vice versa, you can post your ad detailing the kind of encounter that interests you.
Unlike many dating websites, DoubleList doesn't have a matchmaking algorithm. You'll only waste your time waiting for a match with a like-minded person with similar sexual preferences. The initiative is on you, but the website does help you narrow down your search by offering two broad sections with 17 categories.
When you land on DoubleList.com, the greeting message invites you to "Connect with straight, gay, bi, and curious!" promising a site that covers the whole spectrum of sexual identities and preferences. In that sense, the lack of transgender categories is confusing, even though trans people are welcome.
What else can you do on DoubleList?
Personal ads are DoubleList's titular feature, but it is not the only one.
Depending on your dating site preferences, there are many other ways to meet people and spend a casual evening on DoubleList. In addition to direct messaging, you can also: Enter chat groups; Leave comments; View webcams; Play sexy games; Read sex ed blogs.
It may not look like it (we'll talk more about the website's interface and the UX later in the review), but DoubleList is a fun place with just enough options for late-night entertainment. It seems like the number of activities is limited on purpose as a way to simplify and encourage interaction between users.
Who can you meet on DoubleList?
You must be 18+ or 21+ to join DoubleList, depending on where you live. People of all ages and genders populate the website, some groups more frequently than others.
According to user testimonials and our own experience, there aren't many teens and younger people on DoubleList. To be precise, most users are between 30 and 40 years old.
In terms of gender, most are straight males.
However, these numbers are only statistics. Remember, there are around 3 million active weekly users on DoubleList, which means that your chances of meeting a suitable partner are still pretty good.
We've mentioned the lack of transgender categories, which is worrisome, but we've met many trans people on the website.
Is DoubleList free to use?
When you're looking to expand your playing field to new dating websites, a valid question to ask is, does this site offer a reasonable price for the value? Another question in many cases is, is this site free to use?
Recently, finding a good adult dating website that doesn't burn your pocket seems impossible. So, what about DoubleList?
Being 100% free of charge is one of DoubleList's most attractive qualities.
There have been rumors of DoubleList introducing a membership fee, but the website hasn't addressed them officially. DoubleList has been free to use since its launch back in 2018, and there's no reason why that would change now. If rumors turn out to be accurate, we'll notify you ASAP.
Is DoubleList secure?
On top of being free, DoubleList is also very secure and private.
The website ensures the safety of each user by requesting a phone number upon entrance. If you don't provide a valid phone number that they can trace back to you, you won't be able to open a DoubleList account. That is a necessary measure against fake accounts that many people use for fraud and scams.
When you research user reviews for DoubleList on Google, many negative comments turn up – at least 9 in 10 of these complaints are from users whom DoubleList has been expelled or banned for not following its code of conduct, which is pretty strict. Whether or not that is a good thing, we'll leave it to you to decide.
As for security, it's unquestionably better to be strict than sorry.
DoubleList isn't a copycat version of Craigslist but a modern dating website that's smart enough not to repeat its predecessor's mistakes. For example, DoubleList has a zero-tolerance policy for underage content, even if it's only fantasy regarding minors. There's no daddy-daughter role-playing on DoubleList.
Other types of content and conduct that DoubleList strictly forbids are:
Solicitation/advertisement/prostitution/escorting;
Massages/therapeutic services;
Incest;
Harmful, violent, abusive content.
Even so, many fake accounts are still circulating on DoubleList. Nevertheless, the environment is very safe, as long as you keep your eyes open. Never send your private information to strangers on any dating website, including DoubleList. If you stumble upon a suspicious user, report their account.
How do you sign up for DoubleList?
Assuming you fit the requirements, joining DoubleList is very easy.
As a part of the verification process, you'll need to provide your age and phone number. There's no point in sharing somebody else's or a fake number because you'll fail the authentication process.
Other than that, there aren't any complicated steps for joining DoubleList. If you're over 18, you get instant access.
What's unique about DoubleList?
DoubleList has a few features and restrictions that some users might find unique or even quirky.
The following is a brief overview of everything this website does differently than popular competitors. Some are definite advantages, others are drawbacks, but most are neither here nor there.
It's entirely up to you to decide which is which.
1. There are no classic user profiles.
You'll have to introduce yourself to every person you start chatting with, which doesn't have to be a nuisance. That way, you can personalize your message to each ad individually.
On a less positive note, you'll have to ask many questions if you want to know more about the other person.
2. The email address is visible in DMs.
This feature will be a disadvantage if you don't want the people you know from dating sites to email you. However, it doesn't have to be a deal-breaker if you open a designated email address for DoubleList.
On the other side, you, too, will receive the email address of every person you talk to on DoubleList.
3. DoubleList has unusual posting limits.
DoubleList only lets you post two ads a day, and each post limits you to four photos. You also can't have more than one account.
Additionally, if you decide to deactivate your account for any reason, you won't be able to open another one using the same email address. Most dating sites don't have this type of limitation.
4. Users can only chat through adverts.
The only way to start a private chat thread with someone on DoubleList is through ads. You can also meet people in group chats, but there is no option to turn a group session into a private one. You can still leave comments in groups and play hot-and-cold games with other users, if that's your thing.
5. There is no DoubleList mobile app.
There is currently no DoubleList mobile app, only a mobile-friendly browser version.
We cannot help but mention the website's unusually clunky interface, which looks like it hasn't seen an update since the 2000s. On purpose or not, the lack of a mobile app and the UX make DoubleList a bit outdated.
6. The site has no matchmaking algorithm.
The lack of a matchmaking algorithm means you'll have to approach the other users the old-fashioned way. There are no guarantees that you'll like the person even if you like the ad.
Still, there's a certain thrill in that. You can finally get out of your comfort zone and experiment with different things.
7. DoubleList has excellent sex ed content.
While waiting for someone to chat with on the platform, you can read about hot topics such as sex toys, dirty talk, and foreplay. There are also how-tos and inside tips for almost anything sex-related that you want to know but have no one to ask.
In addition, DoubleList has quizzes and an extensive lingo glossary that might come in handy.
What are the best things about DoubleList?
Compared to other dating sites, DoubleList has several fantastic advantages:
The straightforward advert-based model is easy to use.
Despite the trans category mishap, DoubleList represents all groups.
It's entirely free of charge.
Thanks to its verification process, DoubleList is very private.
The zero-tolerance policy ensures a healthy environment.
There's excellent sex ed content and fun games and quizzes.
Does DoubleList have any negative sides?
There are several things about DoubleList that we (and other users) did not like:
Unresponsive customer service;
Many fake accounts;
Many accounts without photos;
A clunky website that looks like it's from the 2000s.
What are other sites like DoubleList?
| | | | |
| --- | --- | --- | --- |
| Rank | Site | Rating | Free Trial Link |
| #1 | Adult Friend Finder | 4.8/5.0 | Free Trial |
| #2 | Kasual | 4.8/5.0 | Free Trial |
| #3 | Craigslist Community | 4.5/5.0 | Free Trial |
| #4 | Bedpage | 4.0/5.0 | Free Trial |
What are my chances of hooking up on DoubleList?
When you look beyond DoubleList's outdated interface and dating model, Craiglists's successor is exactly what it hopes to be – a simple and safe dating website for personal ads. In its category, DoubleList is one of the best places for meeting people of all ages and genders, whether for hookups or long-term dating.
Do you want to know your chances of hooking up on DoubleList?
Well, that depends. Since there is no matchmaking algorithm on this site, every ad can turn out to be a wild card.
All things considered, you probably won't meet many ideal hookup partners that live close to you. Still, we guarantee you'll have a fantastic time with many cool, interesting people that are nothing like you.
We recommend checking it out because you won't know if it suits your needs until you try it. You have nothing to lose since it's entirely free.
---